Line of research: RPC-based Positron Emission Tomography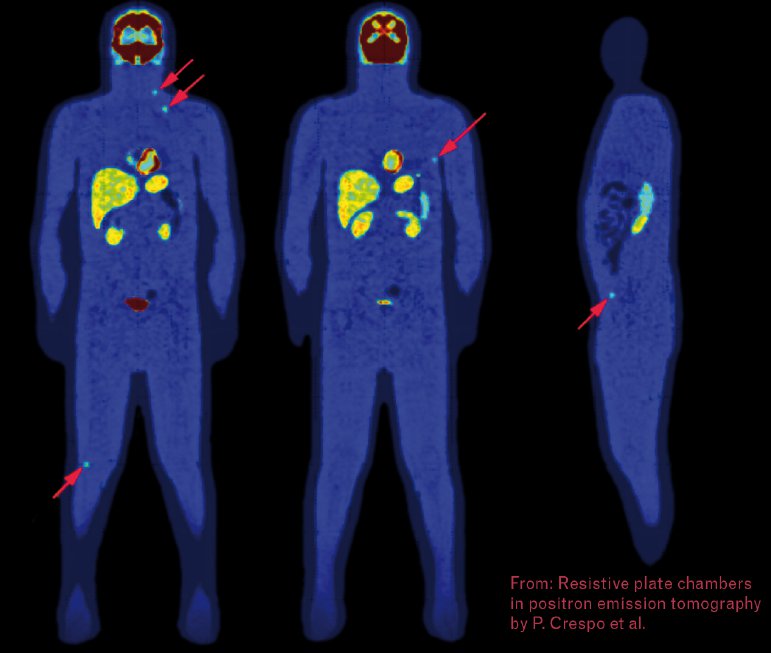 Project abstract:
The project is led by Prof. Paulo Fonte and aims at developing two positron emission tomography (PET) systems. One will be dedicated to
very-high resolution imaging of small animals
, and one should allow for
whole-body, single-bed human time-of-flight PET
. The project is based on the extension to nuclear medicine of detector technology that is well established in high energy physics: resistive plate chambers (RPC).
Collaborating institutions:

LIP -
Laboratório de Instrumentação e Física Experimental de Partículas

UC -
University of Coimbra
, namely its
Physics Department
, together with
ICNAS

ISEC -
Instituto Superior de Engenharia de Coimbra
Some publications/presentations:
P. Martins, A. Blanco, P. Crespo, M.F. Ferreira Marques, R. Ferreira Marques, P.M. Gordo, M. Kajetanowicz, G. Korcyl, L. Lopes, J. Michel, M. Palka, M. Traxler, P. Fonte,
Achieving 0.4-mm FWHM spatial resolution with an RPC-based small-animal PET prototype
, 2013 IEEE Nucl. Sci. Symp. & Med. Imag. Conf. (NSS/MIC), Oct. 27-Nov. 2, 2013, Seoul, South Korea
P. Crespo, A. Blanco, M. Couceiro, N.C. Ferreira, R. Ferreira Marques, L. Lopes, P. Martins, P. Fonte,
Positron emission tomography based on resistive plate chambers
, Symposium on Applied Nuclear Physics and Innovative Technologies, University of Cracow, Jun. 3-6, 2013
P. Crespo, A. Blanco, M. Couceiro, N.C. Ferreira, L. Lopes, P. Martins, R. Ferreira Marques, P. Fonte,
Resistive plate chambers in positron emission tomography
, Eur. Phys. J. Plus 128:7 (2013) 73
P. Martins, M. Couceiro, N.C. Ferreira, R. Ferreira Marques, P. Fonte, L. Mendes, P. Crespo,
On lesion detectability by means of 300 ps-FWHM TOF whole-body RPC-PET: an experiment-based simulation study
, In Conf. Records 2012 IEEE Nucl. Sci. Symp. & Med. Imag. Conf. (NSS/MIC), Anaheim, CA, USA, Oct. 2012, 2440-2444
P. Martins, P. Crespo, R. Ferreira Marques, M. Kajetanowicz, G. Korcyl, L. Lopes, J. Michel, M. Palka, M. Traxler, P. Fonte,
Experimental sub-millimeter resolution with a small-animal RPC-PET prototype
, In Conf. Records 2012 IEEE Nucl. Sci. Symp. & Med. Imag. Conf. (NSS/MIC), Anaheim, CA, USA, Oct. 2012, pp. 3760-3764
M. Couceiro, P. Crespo, R. Ferreira Marques, P. Fonte,
Scatter fraction, count rates, and noise equivalent count rate of an RPC-PET TOF system: simulation study following the NEMA NU2-2001 standards
, In Conf. Records 2012 IEEE Nucl. Sci. Symp. & Med. Imag. Conf. (NSS/MIC), Anaheim, CA, USA, Oct. 2012, pp. 2651-2660
P. Crespo, J. Reis, M. Couceiro, A. Blanco, N.C. Ferreira, R. Ferreira Marques, P. Martins, P. Fonte,
Whole-body single-bed time-of-flight RPC-PET: simulation of axial and planar sensitivities with NEMA and anthropomorphic phantoms
, IEEE Trans. Nucl. Sci 59 (2012) 520-529
M. Couceiro, P. Crespo, L. Mendes, N. Ferreira, R. Ferreira Marques, P. Fonte,
Spatial resolution of human RPC-PET system
, Nucl. Instrum. Meth. A 661 (2012) 5156-5158
P. Martins, A. Blanco, F. Caramelo, M. Couceiro, N.C. Ferreira, R. Ferreira Marques, P. Fonte, L. Mendes, P. Crespo,
A direct time-of-flight reconstruction for whole-body single-bed RPC-PET: results from lesion and anthropomorphic simulated data
, In Conf. Records 2011 IEEE Nucl. Sci. Symp. & Med. Imag. Conf. (NSS/MIC), Oct. 23-29, 2011, pp. 2610-2616
A. Blanco, M. Couceiro, P. Crespo, N.C. Ferreira, R. Ferreira Marques, P. Fonte, L. Lopes, J.A. Neves,
Efficiency of RPC detectors for whole-body human TOF-PET
, Nucl. Instrum. Meth. A. 602 (2009) 780-783