Minister of Science visited CERN
"The Minister of Science, Elvira Fortunato, the vice-president of FCT and representatives of Portuguese universities were today at CERN. The visit was accompanied by the Portuguese delegate to the CERN Council and president of LIP, Mário Pimenta, and the Portuguese ambassadors to the United Nations and in Switzerland. "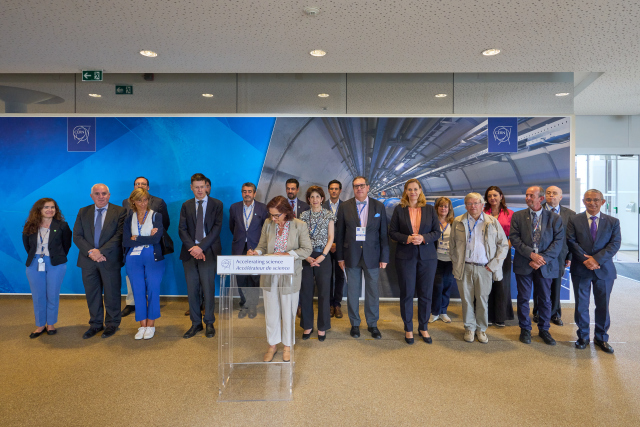 Today, Elvira Fortunato, Minister of Science, Technology and Higher Education, officially visited CERN . The delegation included Francisco Correia Santos, vice-president of the Foundation for Science and Technology (FCT), Luís Anjos Ferreira and Ana Maduro Marques, rector and vice-rector of the University of Lisbon, Cláudia Cavadas, vice-rector of the University of Coimbra, and Rogério Colaço, president of Instituto Superior Técnico.
The visit was accompanied by Mário Pimenta, Portuguese delegate on the CERN Council and president of LIP, Rui Macieira, Portuguese Ambassador to the United Nations, and Júlio Vilela, Portuguese Ambassador in Switzerland. We highlight the presence of members of LIP's directorate, LIP researchers and members of the Portuguese community at CERN.
The visit had as main objective "to assess the research developed by CERN and the participation of Portugal, that contributes to the operating costs of the European Laboratory, representing this contribution about 1.1% of the general budget of CERN", according to the statement published on the Government website, which adds that "In 2021 this support allowed Portugal in to have an excellent return in terms of participation of national human resources in the various programmes".
Minister Elvira Fortunato was welcomed by Fabiola Giannotti, Director-General of CERN and visited various points of interest in the laboratory, in particular the CMS experiment of the LHC, in which Portugal participates through LIP, the CERN Data Centre, the assembly hall of LHC's superconducting magnets, the visitors' centre dedicated to the World Wide Web, among others. She also participated in an informal meeting with the Portuguese community at CERN, organised by its representative, Paulo Gomes.
Also in focus was the European Strategy for Particle Physics 2021-2025, whose immediate priority is the conclusion of the project which will significantly increase the number of collisions at the LHC. In the photos, the guest book signing ceremony (above) and other moments of the visit (below).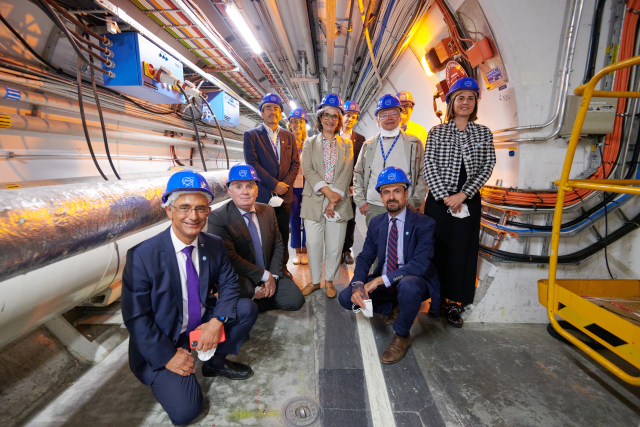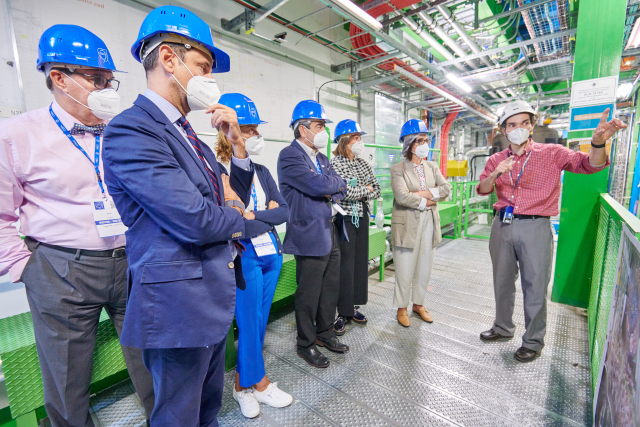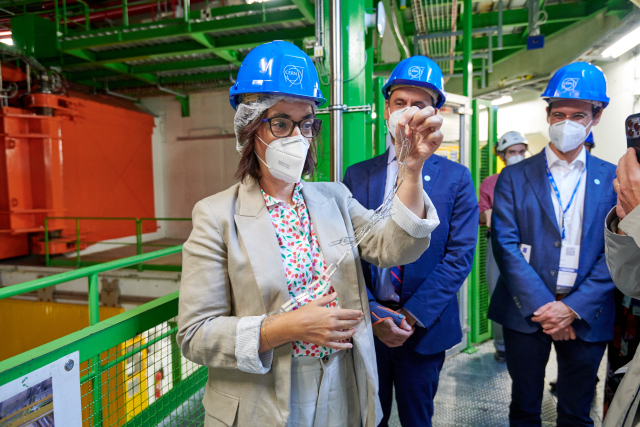 credits: © 2022 CERN